Our Son, Brother, Uncle, Friend. We Love You & Miss You.
This online memorial was created in loving memory of Douglas Alley, whose life story is told throughout this memorial website. Please sign Douglas's guest book and let us know you came to visit. We will remember Douglas forever.
He may have only been 17 years old when he passed, but he made a huge impact on everyone he came in contact with. He is missed everyday by his family, friends, and loved ones.
One moment they were all watching movies at home. Then they got into a car. Three young people, all friends with each other. Minutes later they crashed into a utility pole and a tree. Their car exploded. All three were killed instantly and the Sheriff now says no one may ever know what happened.

The victims were 20-year-old Jaclyn Saksefski of Conyers, 17-year-old Douglas Alley of Covington, and a 15-year-old boy from Stockbridge, Chris Benitez. Their vehicle crashed at about 10:45 p.m. Sunday - April 1, 2007 on Georgia Highway 212 in Rockdale County, just south of Oglesby Bridge Road.

Rockdale County Sheriff Jeff Wigington said Jaclyn was driving north and mysteriously lost control of her VW Passat. The car veered left, across the on-coming lane and across a grassy shoulder, spinning and smashing into the wooden utility pole and a nearby tree.

The gas tank exploded, engulfing the car in flames. Sheriff Wigington said although Chris had been thrown from the car, all three were killed instantly.

"We do have some evidence at the scene to give us some information" about what happened, Wigington said. "But we may not ever know why they actually left the roadway."

The car was crushed by the impact. Firefighters had to cut the car apart to recover the bodies, which were burned beyond recognition. All three were sent to the DeKalb County Medical Examiner for positive identification through dental records.

Doug's parents told 11Alive News that they had hosted all three young people at their home Sunday, where they'd been watching rented movies.

"And Chris had to be home at 11:00," said Glenn Alley, Doug's father. "His dad had a curfew [for Chris]. So they left here about 10:30 to take him home," to Stockbridge. "And, ah, at 11:30, I started calling, because I didn't know where Doug was. And, ah, his phone rang, which means that I knew that it was on. And he didn't answer, which wasn't like him."

At 1:00 a.m., Alley said, Jaclyn's father, who had already gotten a call from the Sheriff's office, called them asking if Doug was at home. They said, no, he'd left with Jaclyn in her car at 10:30 and never came back. That's when they all realized Doug had been one of the teens in the car with Jaclyn when it crashed.

Residents near the crash site said "It was so fast, and the transformer just exploded immediately" from the impact. "I mean, there was nothing but a ball of fire surrounding the car."

The flames climbed higher than nearby roof tops, and were so intense residents thought they were going to burn through the woods and toward nearby homes.

"From everything we've heard, these were good kids just going somewhere, and, ah, left the roadway and had a terrible accident," Wigington said, with anything being the cause, such as a blown tire or another vehicle forcing them to swerve. He said again, "We just don't know, and we may not ever know."

Doug's parents said he and Jaclyn had been friends since childhood. They never worried about her driving him anywhere.

"Safe, smart, dependable," Doug's father said, describing Jaclyn's character. "Not a risk taker" or a speeder, he said. "Just very consciencious.... I would have been more concerned if it had been my son driving."

"Jaclyn was a safe driver, she didn't speed," said Glenn's wife, Jackie Alley, Doug's stepmother. "The last thing I told her before she left the house was, 'Be careful.' That was it. I always told her that when she left my house, to be careful."

Glenn Alley smiled for a moment, through his tears, as he talked about his son.

"He cared about other people. He was always trying to interject himself when he thought people needed help. And I used to tell him that he needed to fix his problems before he worried about other people's problems.... He, ah, had just got his report card, and [he got] all As and Bs for the first time in his school career, and had seemed to turn a corner, [he was] more interested in reading, learning, his behavior was as good as a parent could ask for."

Alley was at a loss to understand what could have happened.

"I mean, it doesn't matter how much you try, I guess it's just certain things you don't have any control over."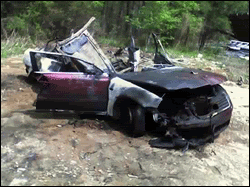 I'M FREE
Don't grieve for me, for now I'm free,
I'm following the path God has laid you see.
I took his hand when I heard his call.
I turned my back and left it all.
I could not stay another day
To laugh, to love, to work or play.
Tasks left undone must stay that way
I found the peace at the close of day.
If my parting has left a void
Then fill it with remembered joys-
A friendship shared, a laugh, a kiss
Oh yes, these things I too will miss.
Be not burdened with times of sorrow
I wish you the sunshine of tomorrow.
My life's been full I savored much,
Good friends, good times, a loved one's touch.
Perhaps my time seemed all too brief
Don't lengthen it now with undue grief
Lift up your hearts, and peace to thee-
God wanted me now, he set me free.